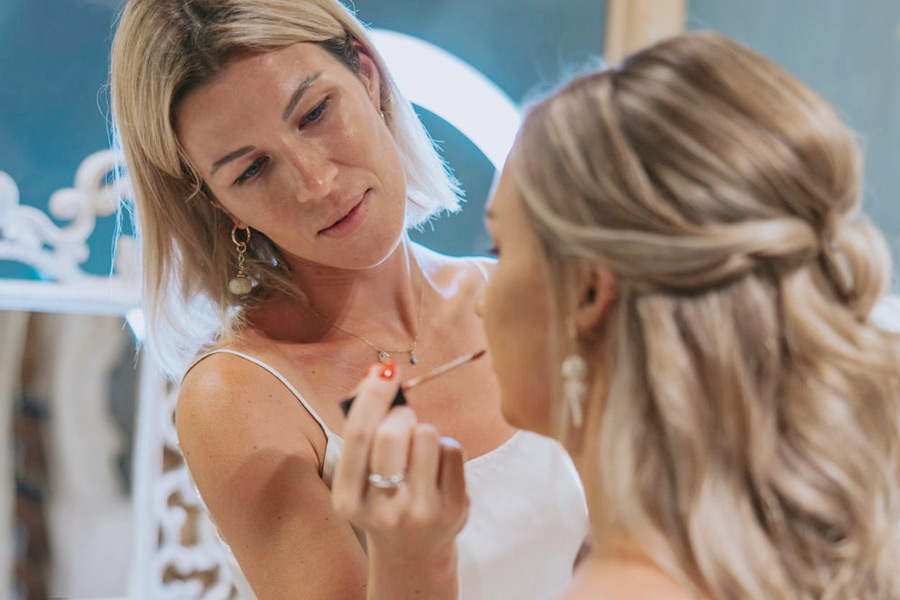 You'll learn new techniques and styles that can take your makeup game to the next level. It'll give you the confidence to pursue your passion and turn it into a career.
Taking makeup courses is the perfect way to stay up-to-date in our industry. Invest in yourself, and let your makeup skills shine!


In the course, you will learn about the various types of cosmetics, gain skills in diverse makeup techniques, and understand how to create commercial "Art Fashion" makeup. Each day we will cover a new topic.
Each class lasts approximately 4 hours. The first 1.5 hours will be dedicated to theory, while the rest of the time will be spent practicing with a model. There will be a 10-15 minute break.
The course schedule is as follows:
First Day: Introduction to makeup – We will discuss makeup in general, and I will guide you on which facial areas to target with each product. I will also introduce you to the essential tools every makeup artist needs and explain various makeup application techniques.
Second Day: Natural makeup.
Third Day: Smokey Eyes makeup.
Fourth Day: Bridal makeup.
Fifth Day: Colorful makeup.
Sixth Day: Makeup for dark skin tones.
Seventh Day: Lifting makeup for mature skin.
Eighth Day: Fashion and artistic makeup.
Ninth Day: Examinations.
Tenth Day: Photoshoot for portfolio building.
Pricing Options
Group Course: Minimum of 3 participants, priced at US $1,000 per person
Individual Course: Priced at US $1,350
Upon completion of the course, there will be a graduation ceremony, and you will receive a diploma.
This intensive course is designed to teach you a diverse range of makeup techniques. Each day, a new topic will be explored by an experienced team member.
Classes are approximately 4 hours long, consisting of 1 hour and 30 minutes of theory, followed by a 10-15 minute break, and then practical application on a model. All materials required for the course will be provided.
Course Schedule
Day 1: Introduction to Makeup.  Understanding different products and their uses on various parts of the face. Mastering various application techniques.
Day 1 is dedicated entirely to theory
Day 2: Natural Makeup
Day 3: Smokey Eyes
Day 4: Bridal Makeup
Day 5: Colorful Makeup
Day 6: Makeup for Dark Skin
Day 7: Lifting Makeup
Day 8: Fashion and Art Makeup
Day 9: Examinations
Day 10: Photo Shoot for Your Portfolio.
Graduation and Diploma Ceremony
Pricing Options
Group Course: Minimum of 3 participants, priced at US $1,000 per person
Individual Course: Priced at US $1,350
Post-Course Opportunities
Upon successful completion of the course, if your potential is recognized, you will have the opportunity to work as part of my team.
Please don't hesitate to reach out for any further queries or to secure your spot in this transformative course.
How early do I have to book?
Do you offer classes in Spanish?
The cost of makeup classes depends on the type of course you're interested in.
The group rate is US $1000 per person, with a minimum of 3 people required to form a group. If you prefer an individual course, the price is US $1350. Please note that these rates are subject to change, so it's best to confirm the current pricing at the time of booking.
It's highly recommended to book as early as possible to ensure we have enough time to coordinate the dates and secure the appropriate space for the makeup lessons.
This will also increase the likelihood of availability for your preferred dates and times. Don't hesitate to reach out to us as soon as you have a tentative schedule in mind.
The classes are conducted in English, but if you prefer to have them in Spanish, I can provide a translator for an additional cost of $30 per day.